Franziska Baumann - voice, sensorlab electronics
Matthias Ziegler - flute, bass flute, contrabass flute, loops
CD LR 589
Leo Records 2010
Newton Abbot (UK)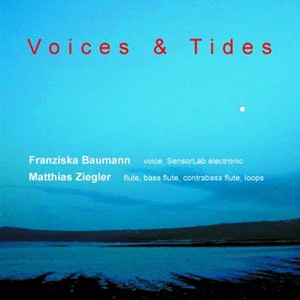 Franziska Baumann - voice, sensorlab electronics
Matthias Ziegler - flute, bass flute, contrabass flute, loops
LR 495
Leo Records
Newton Abbot (UK) 2007
"The clever use of SensorLab makes Franziska's voice totally unique. There is a definite sense of a drama of the creative process which entices the listener into an undreamt-of world of sounds. "
For years Matthias Ziegler and Franziska Baumann have been discovering in continuous cooperation a music that crosses the boundaries between acoustic sounds and electronics. Their work led them to projects in different contexts: a sound installation with floating speakers and daily performances at a mountain lake in Flims, music for Sol LeWitt's Wall Drawings at the museum "Haus Konstruktiv" Zurich as well as various concerts in Europe. www.stimmenundgezeiten.ch.
Changing energy fields, polyphonic zones, and formal consciousness by great expressive power, by quick turns, beautiful sounds give strong preference to improvisation, thus broadening enourmously the expressive potential of the most ancient means of human communication, voice and flute.
Franziska Baumann has developed an extensive vocabulary of experimental and extended vocal techniques such as multiphonics and "glottal clicks" and variety of unique microtonal, timbre-modifying and percussive vocal techniques that have become her signature sounds
What makes the inspired, and inspiring, duo Baumann / Ziegler so special is the persistent density of chamber music, the mutually intuitive reading, act and response, and the confident but playful handling of acoustic, electroacoustic and electronic devices. The voice, the breath and air flow, lips, tongue and oral cavity are used expressively to generate an enormous spectrum of sounds and noises.
They practice an unorthodox and extensive handling of their instruments, produce unheard sounds, leave conventions behind and still remain connected to the European musical tradition.
The musicians broaden the traditional sound spectrum by integrating extended techniques and electronics. The final result is an unconventional multi-dimensional music bordering on flute and human voice.