"eternal ice melts - voice sphere remixes"
Limited Festival Edition, November 2003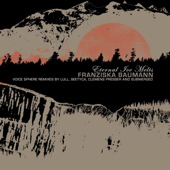 "eternal ice melts - voice sphere remixes"
Label: SOLEILMOON RECORDINGS, 2007
Reviews
Franziska Baumann: Eternal ice melts CDR
Several tracks presented on Franziska Baumann's album Voice sphere have been remixed. The result is a CDR entitled Eternal ice melts, which starts with the original track Eternal ice. Despite the short duration this track consists of several styles. Heading of with a sort of didgeridoo-like singing, to continue with long drown-out metallic electronics with on top of it noisy high pitched screaming tunes. Seetyca and Clemens Presser take care of the second track, which is a nine minutes long dense soundscape with nice tribal percussion added to it. Mike Harris aka Lull and Franziska Baumann are responsible for the next remix. Their co-operation results in a soundscape featuring a rich variety of natural sounds (like water), heavy breathing and warm, clear female vocals. Towards the ends it gets quite hectic due to the Diamanda Galas-like screams and additional noises. Seetyca's contribution is an almost eight minutes long floating piece in which metallic sounds and drones pass by in slow motion. Time is of no importance in the spatial ambience created by the music. The solo contribution of Mick Harris is a dark rumbling piece which ends in a harsh noise collage. All in all is Eternal ice melts a nice collection of dark ambient, recommended to those that prefer this music.
e/i Magazine / Audio Verité /Installment #2 March 2007
Ashes to ashes, ice to ice. Where Michael Keaton's 2005 bomb of a psychological horror film White Noise explored electronic voice phenomena, flautist/ vocalist Franziska Baumann finds her ghosts-and her fabricated string sections, and her imagined vehicles screaming through tunnels-in the wholly tangible environment of mountain ice. Her 2002 Voice Sphere album sprang from her voice and chilly surroundings (recorded by traditional and specially designed microphones, manipulated by high- end computers) as she climbed on and through glaciers. The following year she performed, no, exhibited, her sound paintings in Germany and distributed to her audience 125 CDs with remixes of the original work. That collector's item, Eternal Ice Melts, now sees wider release in a slightly expanded edition. Two versions of "Where All the Frozen Things Went" form the majority of this album; the "Drone Mix" by Lull (neé Mick Harris of Napalm Death and Scorn) anchors both. Unadorned, the aural illusion of concurrent treble-heavy and bassy tracks makes for a fascinating sonic study of exposure to and protection from the cold. With Baumann's overdubs, we are pelted with wind, snow, and the odd explorer, her voice a wailing tribute to the elements, air and water, forming this land, this studio, this resting place. "Voicesphere Icehooked v.03" sees Clemens Presser and Seetyca focusing on percussive qualities in Baumann's source material. The noises making up the majority of their mix barely qualify as drumming; minimalist and wet, they instead recall the drippy tips of stalactites, nature's take on the metronome. Baumann also presents the original version of her track "Eternal Ice", her avant-garde vocal and electronic stylings conjuring images of two separate Ice Ages in the realm of communication, interpersonal (gasps and shrieks) and technological (Morse code). The new "Core Anomaly Mix" from Submerged (a.k.a. Ohm Resistance labelhead Kurt Gluck) rounds out Eternal Ice Melts; borrowing elements from the "Where All the Frozen Things Went" overdub mix, this dark slice of drum'n'bass is by default the hottest thing on an album that is, on purpose, no chill- out.
reviewed by Niels Mark 2/25/2007, facts LABEL
Other reviewed releases of Franciska Baumann Ever since the birth of Pierre Schaeffer's Musique Concrete in the late 1940's, not to mention the futurist Luigi Russolo's imitations of concrete sounds with his noise intoners (Intonarumori) back in the early 20 th century, concrete sounds has been fascinating sound artists around the world. From Alan Lamb's wire-studies on his "Primal Image"-album (1995) across Francisco Lopez's absolute music of the Costa Rican rainforest "La Selva" (1997) to Chris Watson's "Weather report" (2003) many parts of the real world has been explored throughout the years. Female sound artist Franzisko Baumann is one of Switzerland's most important composers to explore the world of field recordings. This new compilation by US-label Soleilmoon Recordings can be considered as a tribute to Franziska Baumann's explorations of glacial crevasses and grottos' sound worlds. Using stereo, zoom and contact microphones, Baumann has sensed the dynamics of the melting glacier. The original composition was presented in the fall of 2003 at the Matrix Festival Of Contemporary Music. Franciska Baumann's manipulated recordings of melting glacier combined with her voice touching the icy crevasse walls gained much attention among the audience of the festival. One of the contributing artists on this present tribute-compilation titled "Eternal ice melts" is Lull ( a.k.a. Mick Harris) who collaborates with Franciska Baumann herself to remix the work titled "Where all the frozen things went" - an excellent ambient piece of dark drones combined with creaks, drips, rumbles and shuffles of the melting ice. Other contributions count artists like Seetyca and Clemens Presser and especially for this release: A rather unexpected breakbeat-driven interpretation of the melting glaciers from S.F.-breakcore-maestro Submerged. His remix-version of the "Core anomaly"-work takes the listener back to the real world in the most cool manner after a trip into the deep sonic caverns of crippling concrete ambience. Highly recommended compilation to anyone interested in contemporary electronics from subtle field recordings to expressive breakbeat-science.