Tsanfleuron
Hearing The Body — Seeing The Voice
voice performance combining concert performance and virtual image space
Tsanfleuron – Hearing the Body, Seeing the Voice is a voice performance with virtual image space.
Franziska Baumann and Claudia Brieske lead the audience onto an audio - visual playing field and, on several levels, to a completely new way of experiencing the transfer from seeing to hearing.
By experimenting with her voice and the use of an electronic interactive instrument, a sensor glove which she has developed, Franziska Baumann, a vocalist, creates unexpected emotions. She has integrated the sounds from the "Megalopolis" Cairo and the "utopia of the empty space", the high plains of the "Tsanfleuron" glacier into her singing.
Media artist, Claudia Brieske, will create new image spaces by processing fragmentary video sequences recorded in Cairo and Tsanfleuron which when, projected onto the stage, will develop into rhythmical image patterns.
The image patterns will be projected onto several screens on the stage and will provide a setting for Franziska Baumann which she can control by gestural electronics.
Nature and technology, silence and urban Moloch, solitude and dissolution of boundaries in the urban flow, concentration of sound and noisy density, mono- and polyphony, seeing and hearing – the voice production "Tsanfleuron" takes place between two opposing fields, that of virtual and that of real space. In a setting of poetic voice space and moving images, a voice opus emerges which integrates the unfamiliar and goes beyond limits.

Videos:
Street Aria (Intro)
Tsanfleuron, second piece
Puppet Glacier
Statement Sounds
Arabic Blues
Traffic Belcanto
Alpines Zeugs
Duett with Hoda Nossier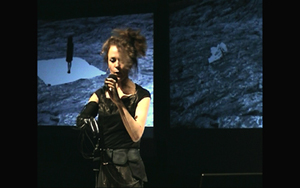 We are grateful for the support of :
WIM Bern
Dampfzentrale Bern
Gemeinde Köniz
KulturStadtBern
Amt für Kultur des Kanton Bern, Burgergemeinde Bern
Fondation Nestlé pour l'Art
Ernst Göhner Stiftung
Schweizerischer Tonkünstlerverein STV
IFA Institut für Auslandbeziehungen e.V.
Hochschule der Künste Bern